How To Transfer Your Text Messages Number
January 2023: the current dashboard release has new graphics and some interface changes. Many screenshots still reflect the older release and will be updated shortly.
If you have previously used the Text Messages feature set with Auctria you do not need to go through the process of assigning a telephone number. You will need to transfer the Text Messages telephone number from the previous event you were using it with.
---
Locate Your Previous Event
The first step in transferring your text messages telephone number is to locate the previous event that was using the number. In most cases, this will be the last event your organization hosted with Auctria.
An example main Auctria Dashboard showing an assigned text messages telephone number.
The Auctions report will show all auctions under the current organization.
An example showing the current auctions of a demonstration organization.
If Text Messages was previously enabled for an event the text number will be shown under the Phone Number For Incoming Text Messages column.
INFORMATION
If you have not used Text Messages with your paid Auctria subscription before, please see the Assign Phone Number section of the Texting Setup page.
---
Open Text Settings
Once you have located the event where you currently have your Text Messages telephone number assigned you can move forward with transferring it to your current event.
From the main Auction Dashboard of the event with the assigned telephone number, click through the Communication entry, and then click through the Text Settings entry of the Communication dashbaord to reach the Texting dashboard.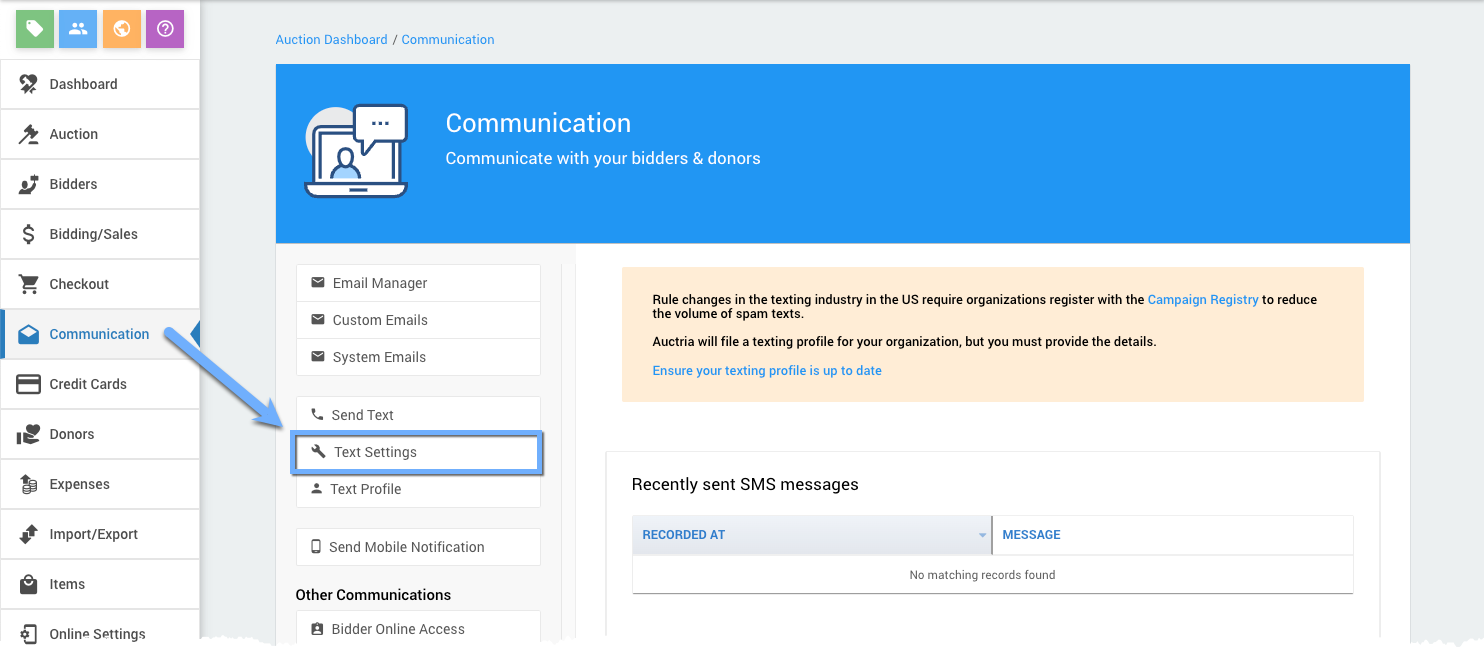 INFORMATION
Clicking on the telephone number block on the main Auction Dashboard will also take you directly to the Text Settings for the event.
---
Transfer The Telephone Number
On the Texting dashboard page you will see at the top of its sidebar Actions menu the Transfer Phone Number entry.
An example taken from a demonstration event.
Clicking on Transfer Phone Number will open the Transfer Phone# pop-up window.
An example of the pop-up Transfer Phone# window.
Select The Auction
From the pop-up window, you can start typing into the Choose Auction field and it will auto-populate with your organization's event.
An example event taken from a demonstration organization.
Once you select the event, click the Continue button to transfer the Text Messages telephone number to the event.
IMPORTANT
There is no additional confirmation once you click the Continue button, and you will be immediately moved to the event where you transferred the telephone number.