Virtual Live Gala
Take your "Live" event from in-person to a fully Virtual Live Gala including live bidder updates. You can manage your Live Auction Controller via the Monitor Auction website via the Live Auction tab.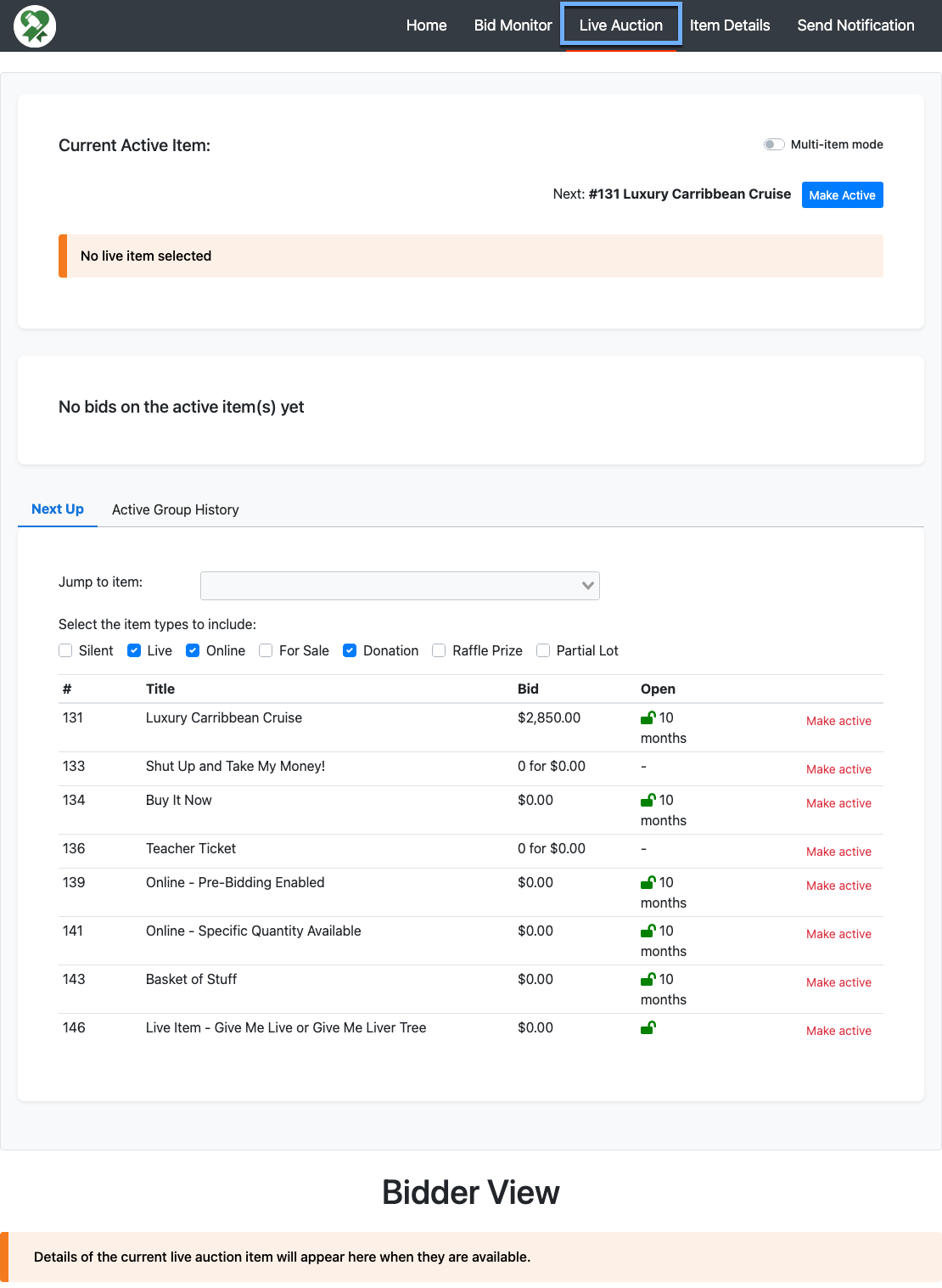 Video: Virtual Live Auction Demo
Adding Your Live Auction Page
In most cases, you will be Adding Your Live Auction Page to the auction website as a stand-alone page for your guests to visit. This is where the main action will be taking place for the Virtual Live Gala bidder interaction. See Add Live Auction Page for more details on how to do this.
Live Auction Bidding Section
The Live Auction Bidding Section consists of two main elements. The Live Auction Controller and a specially configured Item Details element.
You can add additional elements to this page either in new sections or new rows in the existing section. For example, you might look at adding a Text Element at the top of the page with a short introduction. See the Website Editor section of the User Guide for more details on this.
(updated)
Live Auction Controller
The Live Auction Controller is managed from the Monitor Auction Live Auction tab. A message is displayed at the top of the element with this reminder.

WARNING
The Live Auction Controller can only be added to a page via the Add Section operation. This helps to ensure the Item Details Container element is added and configured correctly for use with the element on the page.
Item Details Container
The Item Details Container is pre-configured to display only the current "Live" auction item. When the Live Bidding Auction Section is added this element will be "empty" by default as no "Live" item has been selected, yet.

WARNING
For reference purposes only, the Item Details Container does not set a "Focused Item" and does enable the "Sync to live auction" option. These options should not be modified.

Video: Live Auction Controller Overview
This video provides an overview of how the Live Controller Controller can be configured for both a "Live" auction and "Paddle Raise". There are several ways of configuring the Live Auction Controller and there are a number of nuances to using it.
For additional assistance, please consider our Auctria Launchopen in new window service.
---
Last reviewed:
January 2023