Peer To Peer Auctions
Most Peer To Peer Auctions are based on the idea of providing bidders with the opportunity to support a person, or team, in helping raise funds for a specific event.
This can generally be handled like a Fund-A-Need auction using specific Donation Items for each person, or team, involved in the event. These Donation Items are best set up using the Donation Element and configuring the items using its Donation Items Mode to allow for easier tracking.
IMPORTANT
The Cash Donation Mode records "cash" donations and does not provide for tracking with the same details as using the Donation Items Mode.
Example: Team Captains
As an example, your event may have Team Captains that would serve as the main contact point of their "team"; and, the teams are raising funds for their local library. You may be having a friendly competition amongst your Team Captains with their reward for raising the most funds as their choice of the primary genre of books the library will be acquiring.
In this case, Team Fox's team wants to have more biographies to choose from for their efforts... this is likely going to be part of the information you provide for the Donation Item.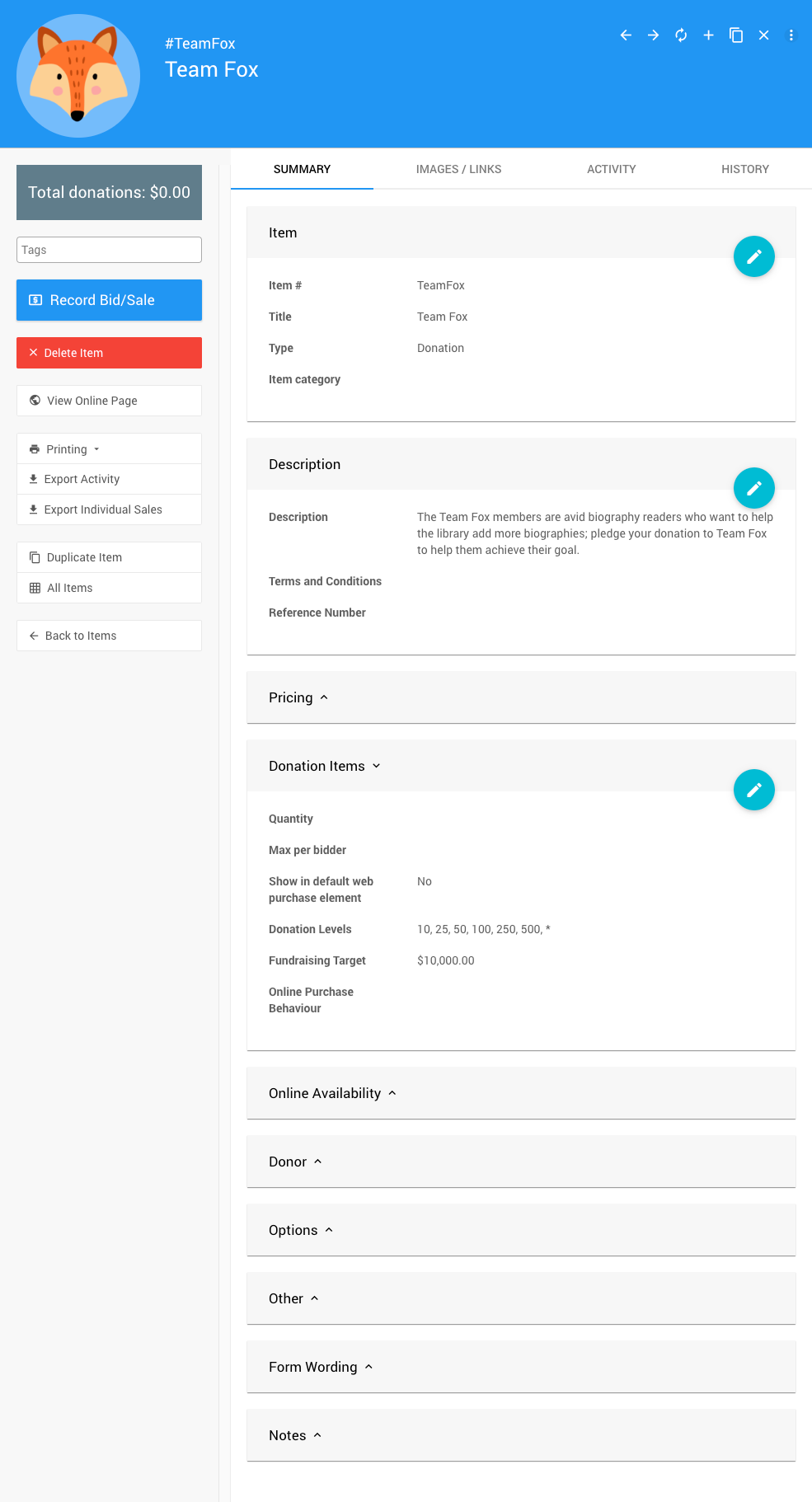 An example of a possible Table Caption item for Team Fox's team -- note the custom Item #.
Team Fox can now share her Team Captain "link" with their team and their donors using the item# TeamFox as a shortcut to the item details page.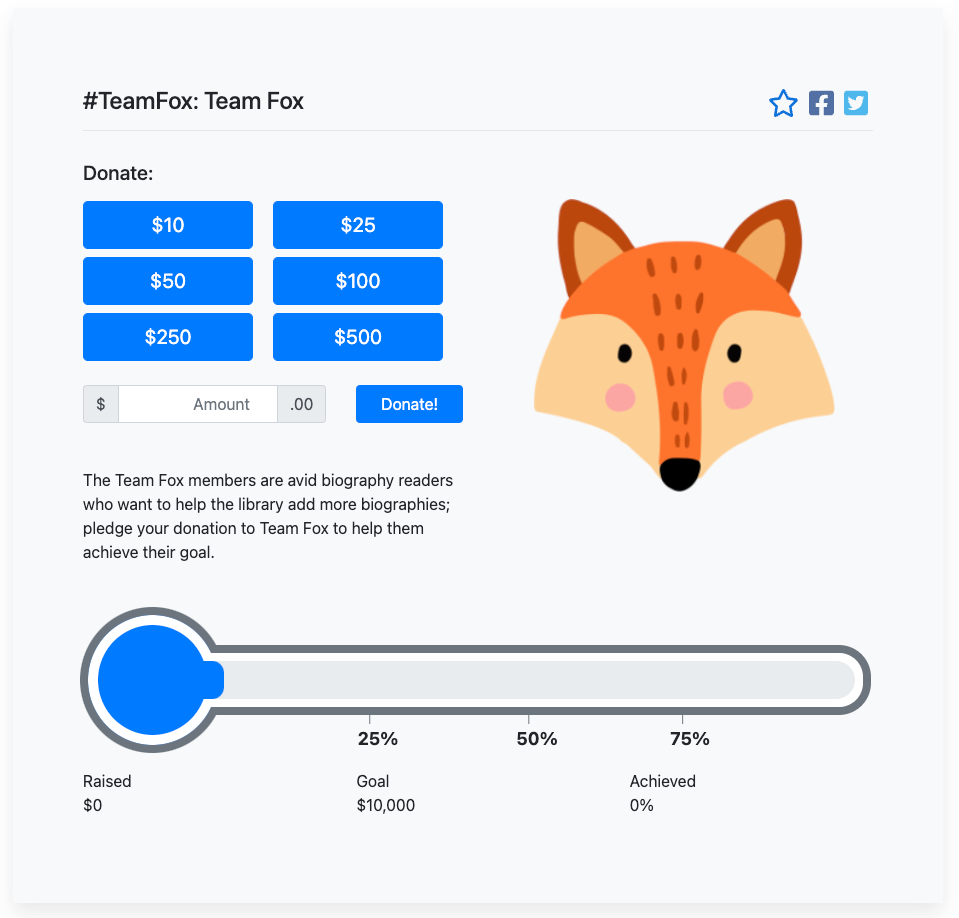 An example using a URL along the following lines charityauction.bid/library-book-drive-2023/TeamFox
(provided the event was named "Library Book Drive 2023").
NOTE
You can use the default Item# generated by Auctria and then use that specific Item# as the shortcut value in the URL although using a Custom Item # may help the Team Captains share their specific Donation Item more easily.
Similar items could be created for Team Koala's Cooking team, Team Giraffe's Science Fiction team, as well as all of the other Team Captains for the event. You can then simply allow for the direct links to be shared by your Team Captains and their teams as well as displaying them all together, for example, on the auction website.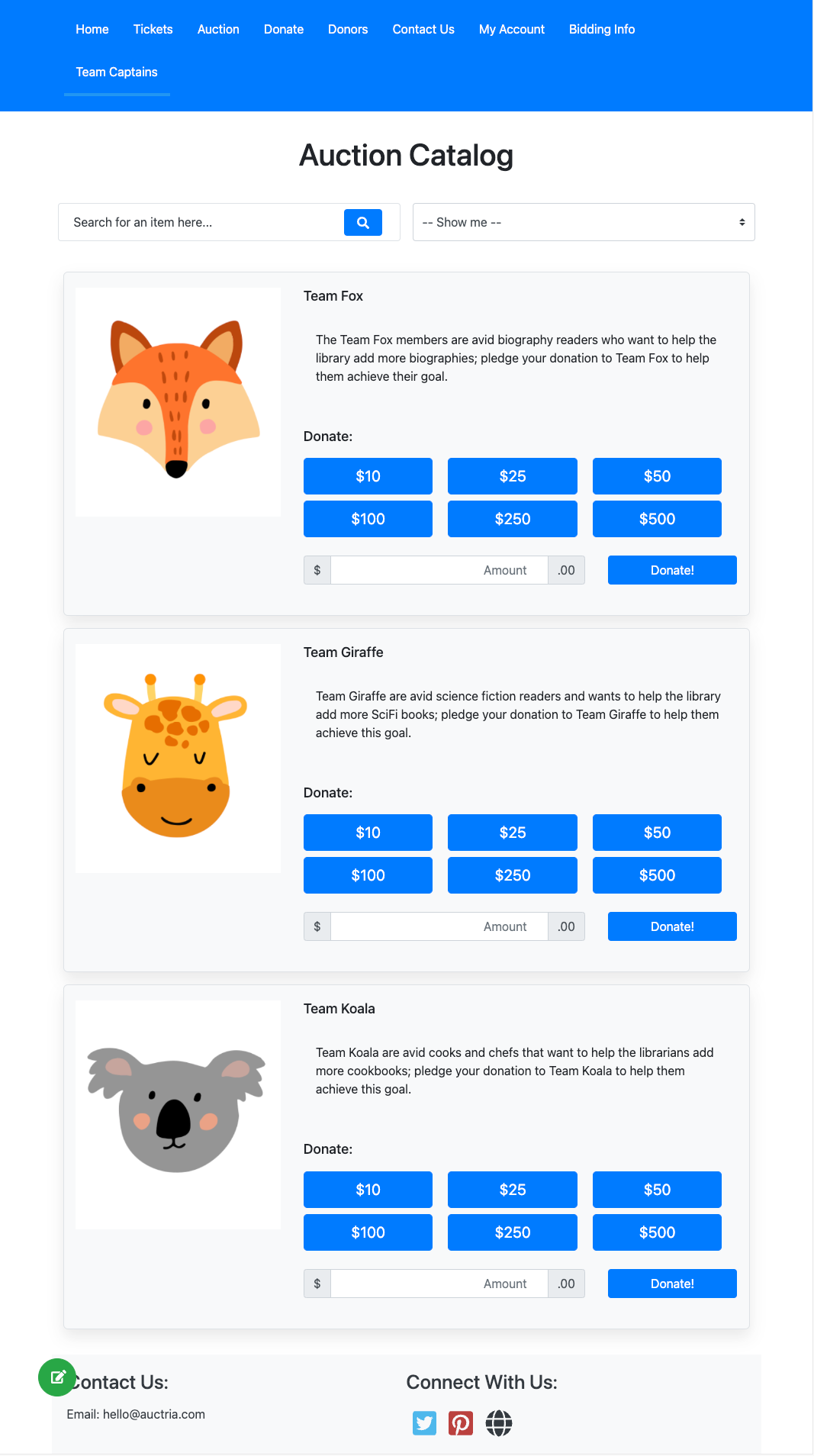 An example page with the all of the current "Team Captains" displayed together.
You can further enhance your Peer-To-Peer auction events by adding Profile Cards to the website and using the Profile Card Social Bar element's website address link to point to their Team Captain's relevant item.
You might also consider leveraging the Solicit Items form to draw in more Team Captains for the event by allowing them to sign themselves up.