How To Add Existing Raffle Tickets
There may be cases where a "raffle" ticket was created outside of the Raffles feature set, and you now want to include it in a full-featured Raffles product.
Create A Raffle
You will not add the existing "raffle ticket" in this step. If you do not have a Raffle already created, you will need to add it before adding the raffle ticket you previously made. See  ∞ Creating Raffles for more information.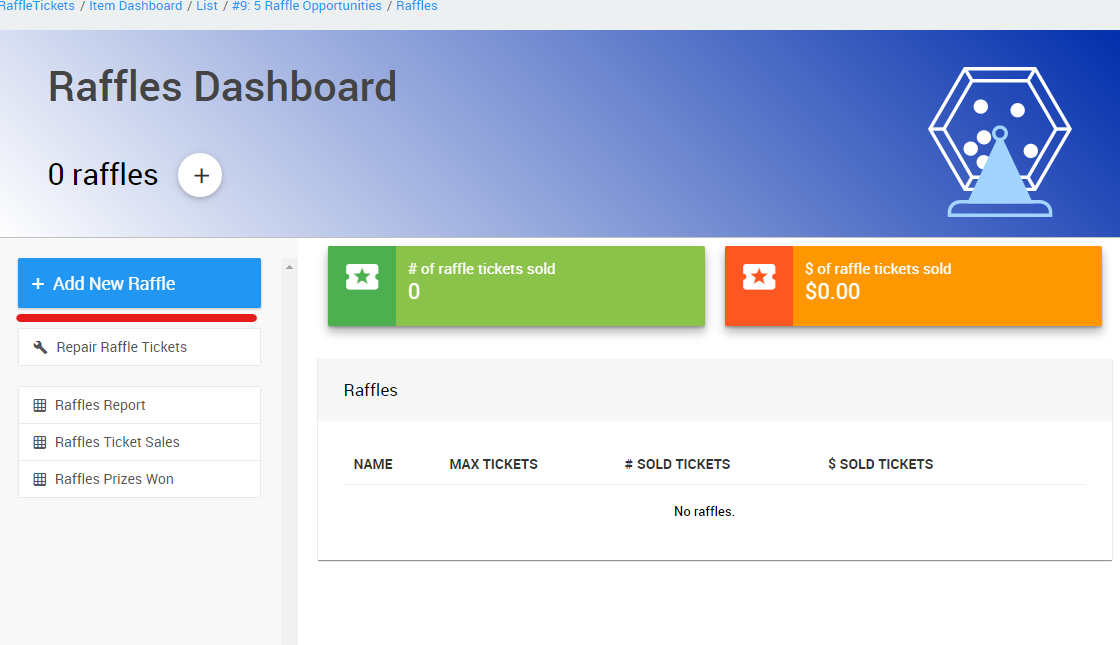 Edit For Sale Item
Once you have a Raffle to add your "raffle ticket" to, you must go to the raffle ticket's Item Details page to edit its Tickets section.
Change the For Sales Options section Ticket Type from None to Raffle.

Update Raffle Ticket
Once you save the changes to the For Sale item making it a raffle ticket, a Raffle Tickets section will be available to update the number of Tickets included and attach it to an existing Raffle by choosing one from the Raffle drop-down selector.

Repair Raffle Tickets
If you have updated the Item Details for a raffle ticket to attach it to a raffle, or change the raffle it was assigned, using the  ∞ Repair Raffle Tickets is strongly recommended to update the Raffle and assign raffle tickets unique numbers.
Adding Ticket Packages
If you want to quickly create a package of tickets using this same item for the same Raffle, you can use the  ∞ Duplicate Item function and update the duplicated item's Title (perhaps noting the quantity), Value (sale price of the package), and the Tickets included quantity.
INFORMATION
This would be used to replace a "basket" package of tickets, if it existed.