Custom Emails
You can create and send custom emails to bidders and donors by clicking on Communication -> Custom Emails to open the Custom Email Manager dashboard.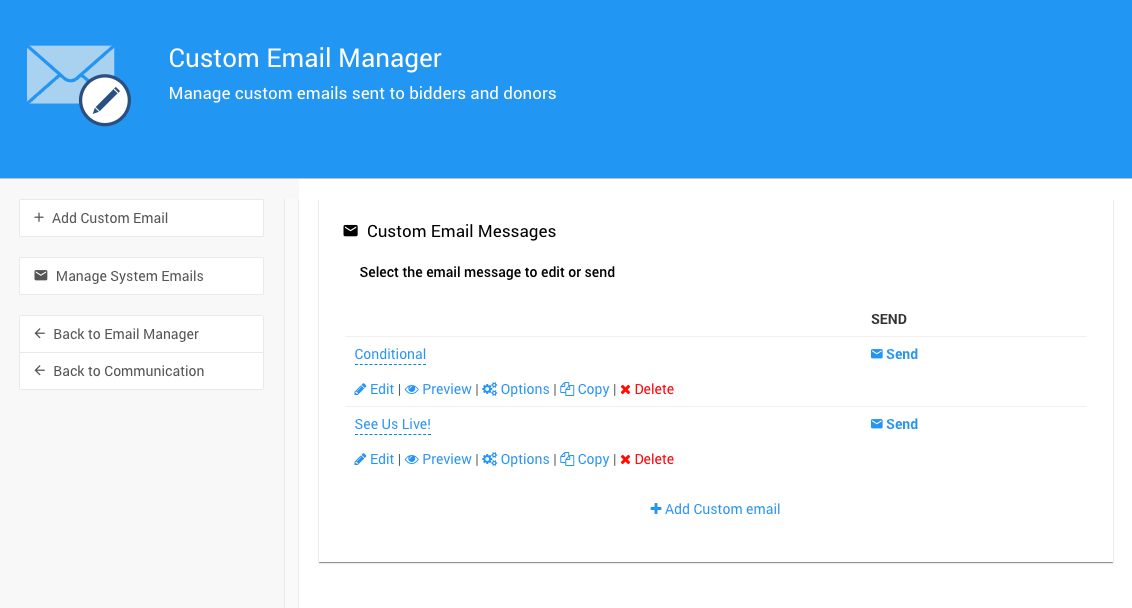 Add Custom Email
Clicking on the Add Custom Email button under the Actions sidebar menu or using the Add Custom email link under the list of custom emails will add a new custom email entry.

Each Custom Email can have its own unique title as well as managed through its own specific settings (linked beneath the email title).
Clicking on the "New Custom Email" (default) title will open the Email Title field editor where you can set an appropriate title for your Custom Email.
NOTE
The Email Title is not the email subject, you will need to use Edit to open the Email Editor, or use the Options settings, to set the subject for your custom email.
Edit
Clicking Edit will open the "Email Editor" page. This editor is used for all emails sent from Auctria. See Editing Emails for more information.
IMPORTANT
A Custom Email is unable to access any "transactional" data, it can only access fields directly available on the bidder record itself.
See the  ∞ Bidder Reference in the Template Reference section for more details.
Video - Custom Email With Bidder Access
Auctria Video
September 2020
Preview
Clicking Preview will pop-up a preview of the current email filled with example text and data. To close the window: click outside the "pop-up" window, click the x in the top-right corner of the pop-up, or clicking on the "Close" button at the bottom-right corner of the pop-up.
Options
Clicking on Options will pop-up a window where the "New Custom Email" subject can be set as well as toggles to use the "standard" email header and footer elements.
These settings will be reflected in the "Email Editor" page for the specific custom email.
Copy
Clicking Copy will open a pop-up window where you can either copy the email to another event or create a copy of the email for use in the current event.

Delete
Clicking Delete will open a pop-up window with a confirmation message you will need to click "Continue" on to delete the selected custom email.

Send
Clicking the Send link (at the far-right of the specific custom email) will open the pop-up "Send Email" window where you can select if you are sending to bidders or donors and which of those possible recipients will be selected.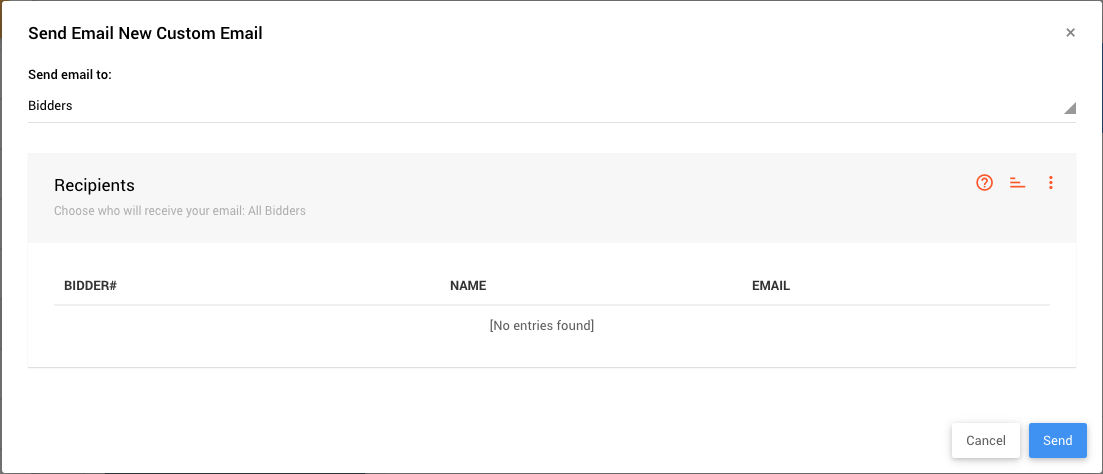 See also How To Send Custom Emails for more information.
---
Last reviewed:
March 2023