Report How-To Guides
Common Report Questions
In general, reports will be displayed in a "list" view. These list views can be modified using the controls found at the top of the report.
Options And Controls
All examples taken from a demonstration event.
An example All Items (current event) report.
All reports have these icons representing the Options And Controls available to modify your Reports as needed. Each action icon works as a toggle to display its function.
Search
Magnifying Glass -- this opens a field for searching the current report.
Tags
Ribbon/Bookmark -- this opens a field to search the current report specifically by Where Tags Can Be Used In Auctria attached to the event items. See Columns (below) for more on displaying the Tags column for reference.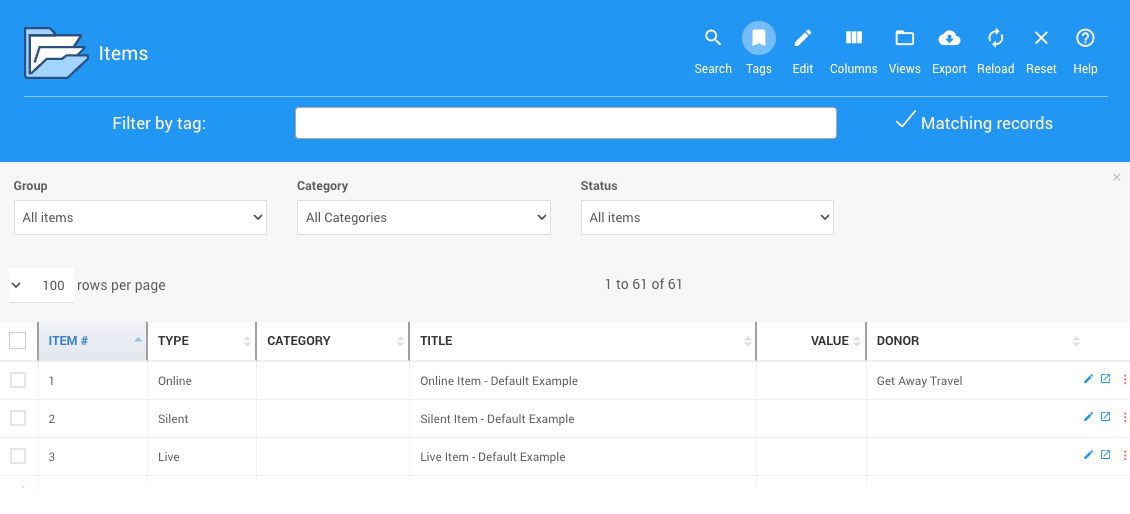 Edit
Pencil -- this opens the Mass Changes and Tag Editor fields.
Columns
Three Vertical Bars -- this opens the Choose Visible Columns window where you can add (or remove) columns available for the current report by checking the appropriate box.
See Choosing Columns for more information.
Views
Folder -- this pops open the View options for the current report. See the Views section under Working With Reports for more information.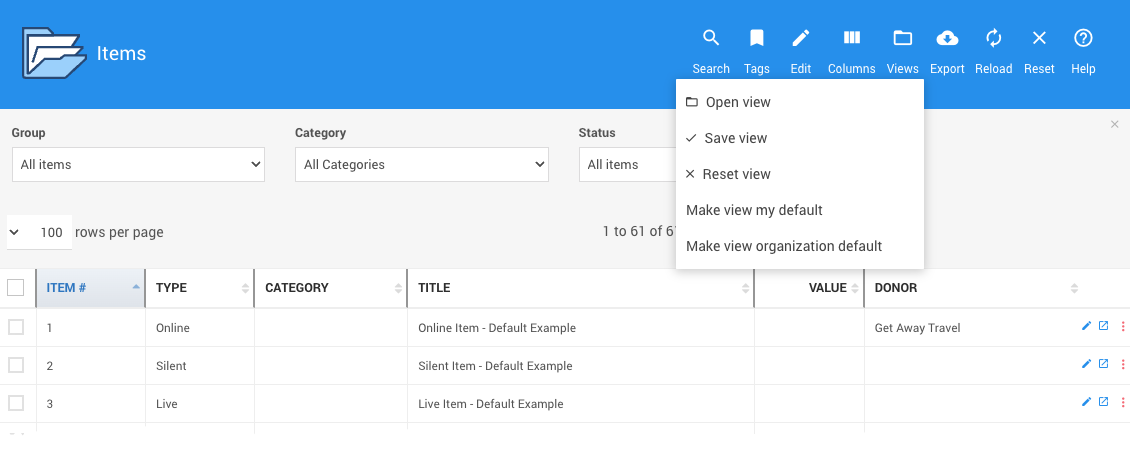 Export
Cloud Download -- this pops open the Export options for the current report. Selecting one of these options will trigger the export process and start the "download" operation in your browser.
INFORMATION
The exported data will reflect the columns and sorting options selected at the time of export. The exported data will include the complete report, not just the current page of a multi-page report being viewed on the screen.
Reload
Refresh -- this triggers the report to be reloaded using the current properties.
Reset
X -- this will refresh the report using the system default properties.
Help
Circled Question Mark -- this open a new tab/window in your browser and takes you directly to the main Reports page of the User Guide.
Rows Per Page
At the bottom of reports you will find the rows per page option allowing you to change the default 100 to 500 or All.
---
Last reviewed:
February 2023