Text Messages
WARNING
The Text Messages feature set requires a paid subscription to be enabled. Please also note, this feature set is not available outside of North America at this time.
Auctria provides a Text Messaging service as either Standard Texting or Advanced Texting for its paid subscribers.
Text Settings
Standard Texting is enabled instantly for an event with a single click in the Auctria dashboard. Registering a Text Profile or incurring additional costs is unnecessary.
All system-generated text notifications, including bidding updates, registration confirmations, check-in notifications, and item won alerts, are supported. Bidders can reply to outbid notifications to place their next bid by text. However, Standard Texting will not have custom text messages or bulk texts sent to all bidders.
Your event is automatically assigned a shared phone number from our managed pool when using the Standard Texting feature set.
Advanced Texting provides the same features as our current texting services.
In addition to all system-generated notifications, you can Send Custom Text messages and select a dedicated event phone number.
To use Advanced Texting, organizations must register a Texting Profile through the Auctria dashboard, which will be externally reviewed by the CTR. Please note that this process can take up to a month or more, so plan accordingly.
Only registered 501(c)3 organizations with a valid Employer Identification Number (EIN) are eligible due to the CTR's verification requirements. The name associated with your EIN must match exactly your 501(c)3 registration.
These rules do not currently apply to Canadian organizations.
Texting Dashboard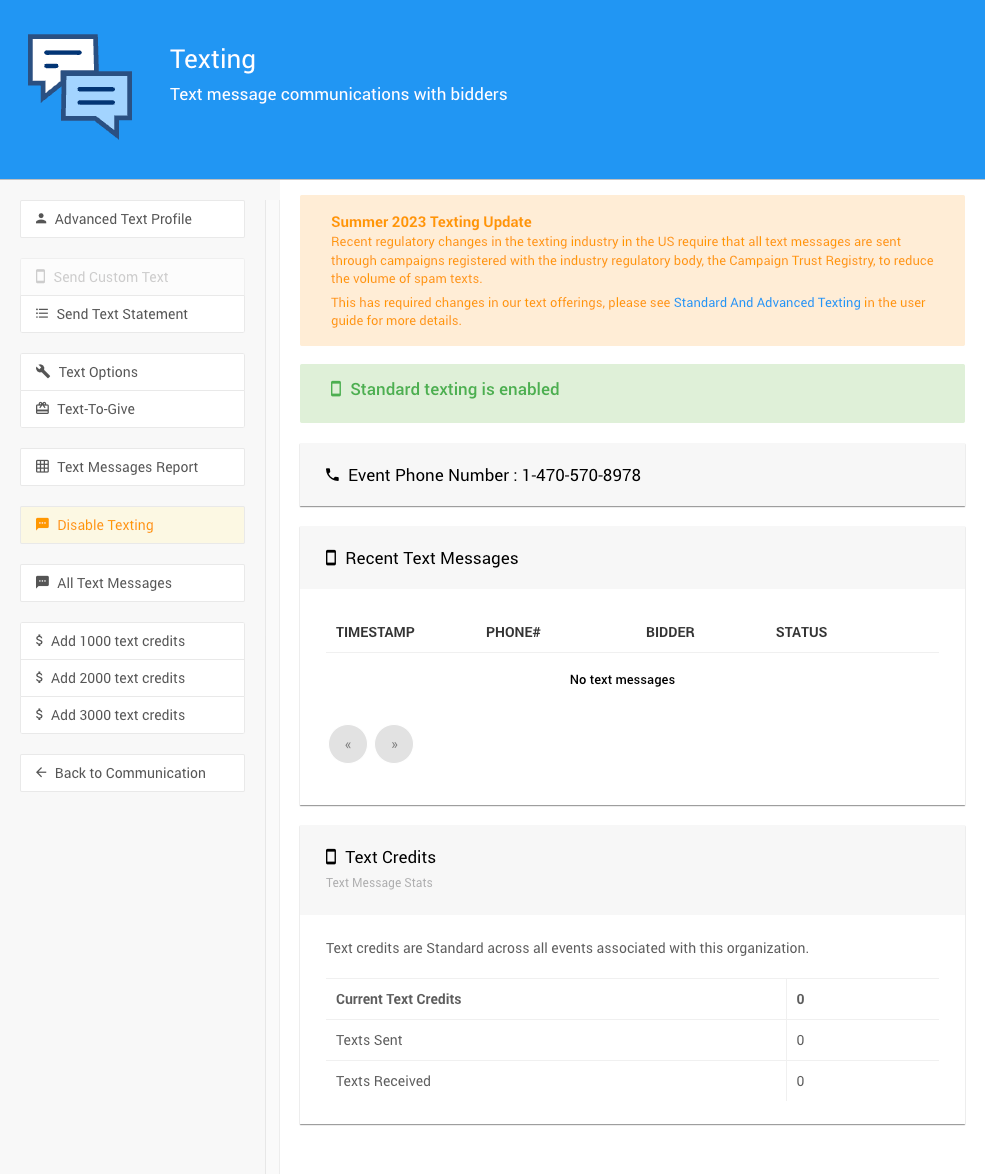 An example Standard Texting dashboard from a demonstration event.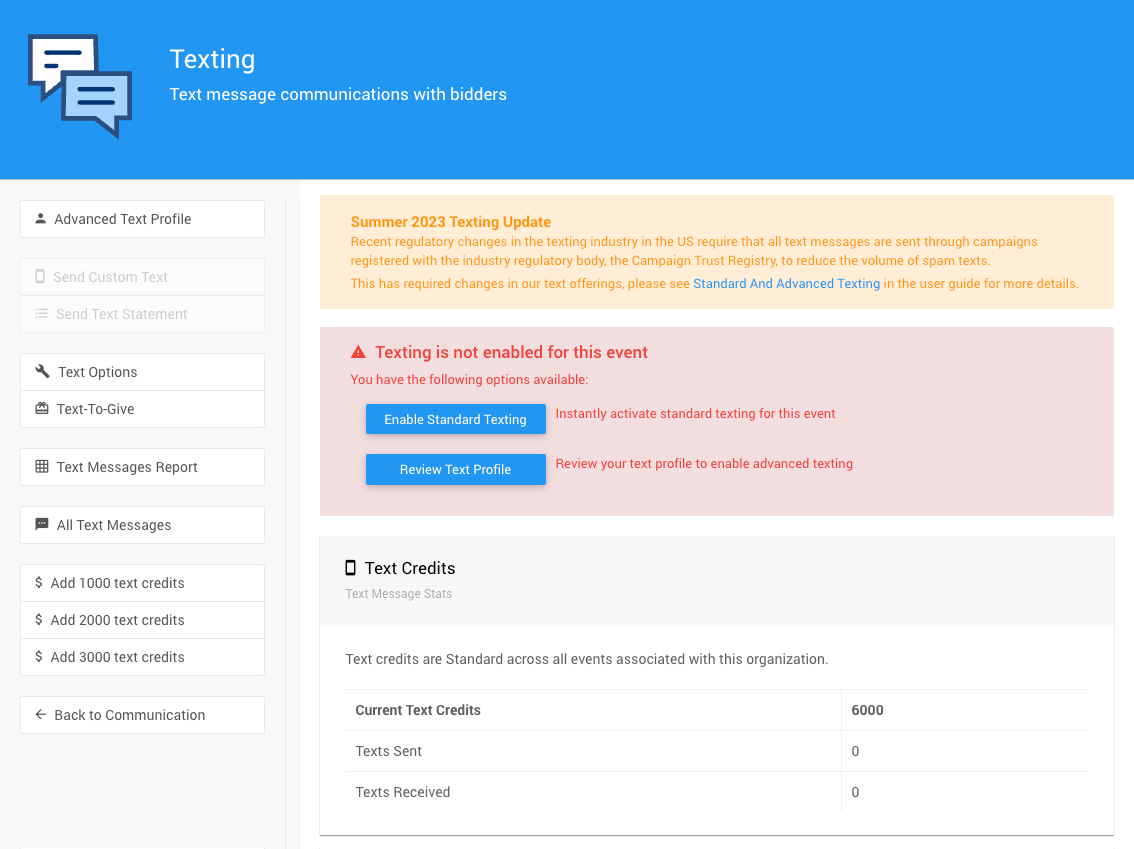 The Texting Dashboard without texting enabled - new event default.
By default, Texting will not be enabled for a new event. If you are new to Text Messages or have not enabled it with past events, your most straightforward option is to go with our Standard Texting feature set.
Enable Standard Texting
If you choose the Standard Texting feature set, you must click the "Enable Standard Texting" button on the main Texting Dashboard page. This will enable texting for paid subscriptions only.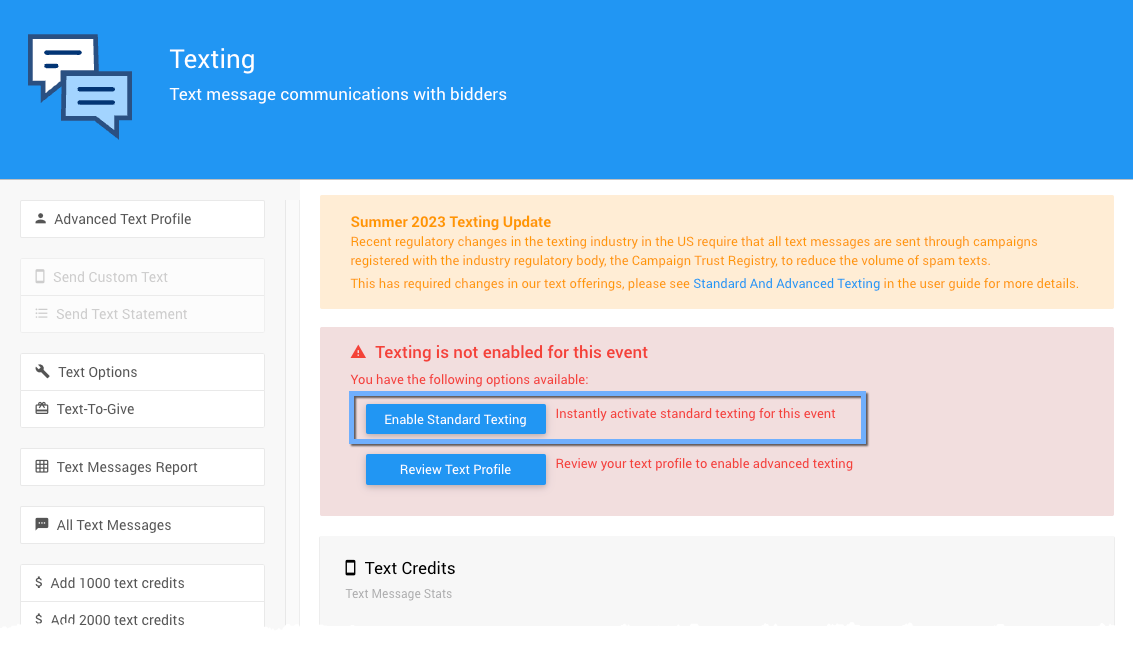 Enable Advanced Texting
If you choose the Advanced Texting feature set, you must ensure your Text Profile is up-to-date and "correct" to what you have on your registered EIN profile. These must match for your Advanced Texting feature set to be completely enabled.
Suppose you've previously registered a Text Profile with Auctria. In that case, you can check your status on the Texting page of the Auctria Dashboard under Communication. Profiles registered in the last few months should be valid; older profiles may need updating with the Organization's EIN.
Texting Credits
The Text Messages feature set initially comes with an allotment of Texting Credits. You must purchase additional text message credits if you exceed the allotted amount. This can be done at any time. We suggest ensuring fundraiser costs are kept up-to-date as soon as possible.
NOTE: Each message, sent or received, uses a credit (for example, receiving a bid message and sending its acknowledgment would be counted as 2 credits).
Credits are available in bundles of 1000 messages for $25 per 1000.
INFORMATION
The Emerald and Diamond subscriptions include the Text Messages feature set and an allotment of Texting Credits.
See Advanced Texting Set Up for more details on the set up process
Identifying Bidders
A Bidder Record is tied to the use of the texting features using the Cell Phone Number as shown on the bidder details page. See Bidder Details for more information on this record.

When a text message is received, the number will be matched to the Cell Phone Number value on the appropriate bidder record.
IMPORTANT
If the Cell Phone Number is used on more than one record it will not be matched and the texting function will fail. Each bidder should have a unique cell phone number.
You can either enter this information manually at check-in, or bidders can enter it during online registration. With Text Messages enabled, you can also Enable Registration By Text allowing bidders to register themselves or Enable Bidders To Claim Their Bidder Number you have assigned.
See Bidders & Phone Numbers for additional information.
Texting Commands
There are a number of Texting Commands bidders can send to the auction number in order to participate in the auction. See Text Commands for more information.
---
Last reviewed:
August 2023