Profile Bar
By default, the Profile Bar will be found in most auction website templates at the bottom of the page.
Basic Content - Profile Bar
Drag and drop the More Column Content element from the Website Editor Sidebar into the column space where you want to add the Profile Bar.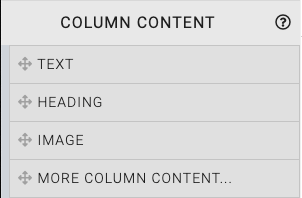 This will open the Choose Content window.
Clicking the Profile Bar element will now drop it into the column space you selected. The element will insert the default Profile Bar.

When the Profile Bar element is highlighted it will be seen in the "Selected Elements" section of the Website Editor Sidebar. Clicking on "Profile Bar" in the "Selected Elements" section will open up its settings.
Edit Profile Bar
The Profile Bar has a single setting that toggles it between the default view and a "Dark" style.

TIP
To add the Profile Bar to the top of the page (above the header/menu element) you will most likely need to Add A New Row first.
Also see Common Element Actions for more details on managing the Profile Bar element.
---
Last reviewed:
February 2023