Social Bar
January 2023: the current dashboard release has new graphics and some interface changes. Many screenshots still reflect the older release and will be updated shortly.
---
Basic Content - Social Bar
Drag and drop the More Column Content element from the Website Editor Sidebar into the column space where you want to add the Social Bar element.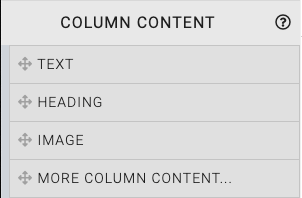 This will open the Choose Content window.
The Social Bar displays, by default, the Social Media for the Organization.

---
Edit Social Bar
Use Organization's Links This toggles the use of the Organization's Links or allows you to set specific links as needed. Using this toggle will require all links you want displayed to be entered in the element.
Icon Style You can have "Square" icons (default). There is also an option for "Circular" icons.
Alignment The default Alignment option is to center the icons.

Left - aligns the icons to the left.
Right - aligns the icons to the right.
Fill (around) - spreads the icons evenly across the container with space at each end.
Fill (between) - spreads the icons evenly across the container with no space at the ends.
Each of the "Social Media" sites listed can be configured by clicking on its name and entering in the appropriate ID.