Solicited Items
January 2023: the current dashboard release has new graphics and some interface changes. Many screenshots still reflect the older release and will be updated shortly.
A web page can be set up where donors can donate items through your website. See the Solicit Items element and the Item Solicitation section pages for more details on this.
Items entered online in this way are not automatically added to your item list, instead you need to accept the ones you want to promote to be added to the auction items.
Once a donation is submitted through the website, you will receive an email notification.
You can review these "Solicited Items" from the Auction Dashboard by clicking through Items and then clicking on the Review Solicited Items link under the Solicited Items sidebar menu.
Solicited Items Dashboard
The Solicited Items dashboard page will show, by default, the items that have not been "accepted" or "rejected". These are generally considered "new" as items that have not been addressed yet.
Solicited Items Actions
You can choose to Reject Selected Items (changing their status to "Rejected"); or, Accept Selected Items, which will create a new item using the information entered by the donor checking the appropriate listed items and using the Actions sidebar menu option.
---
Accepted Items
After accepting a selection of items, the process will then ask for additional information to be applied to all of the accepted solicited items.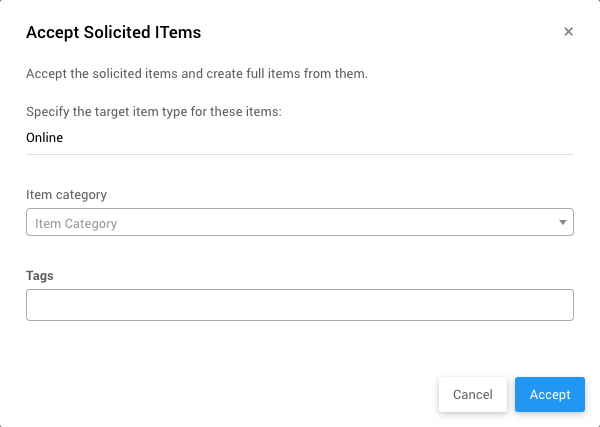 The Accept Solicited Items window will allow you to set the Item Type, Item Category, and Item Tags. Once an item has been accepted, you can edit the item like any other item in your event allowing you to change any of the "defaults" you used with the initial acceptance of the items.
INFORMATION
You can also use the option Send Receipts On Acceptance to notify donors of accepted donation. This uses the Donor Receipt System Email for the notification.
This option is not enabled by default; remember to enable this checkbox option before accepting your donated items.
If you require additional details or further interaction with your donors when accepting a donated item, using a customized Donor Receipt may be your best opportunity to continue the conversation. For example, you may want to have the donor signature on file and sending this request on a customized Donor Receipt could advise this.
Once the Item Type, Item Category (optional) and Item Tags (optional) have been set and the Accept button has been clicked the screen will refresh showing the list of recently accepted items linked to their Item Details page.