Your Profile
A single email address can be associated with multiple roles in Auctions, and across Organizations.
As a user/administrator you can click on your email address in the page header to see your Profile, or select the Options Menu (three vertical dots) and click on My Profile. You can switch to a different role by clicking on the appropriate event on the ROLES tab.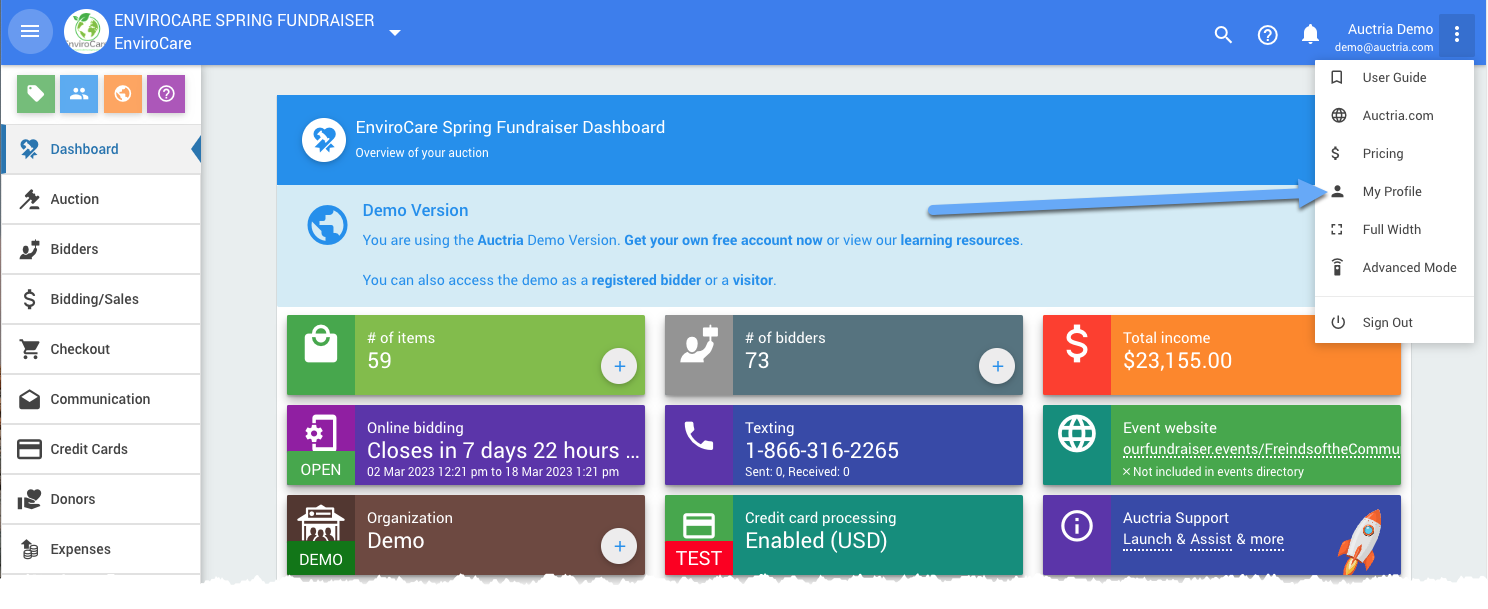 Roles
In the User roles section, you can view the Organizations that you have a User Role at. Clicking on the Organization name will switch you to that Organization and Role.
If you are a bidder in an Auction, it will be shown in the Bidder roles section. Clicking on the event will switch to that auction.
All examples taken from a demonstration event.
Details
Under the Details tab, you can view your "Email address" and your "Full name" in the Identity panel.
Change Name
Clicking the Change Name button will pop up the Change Name window.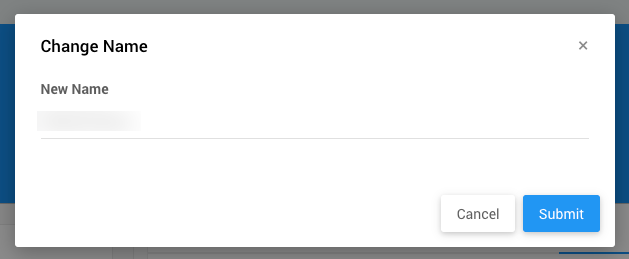 An example taken from a demonstration event -- the current name is pre-filled in the pop-up.
Connections
In the Connections panel, you can see if your email address is confirmed as well as any social network confirmed connections.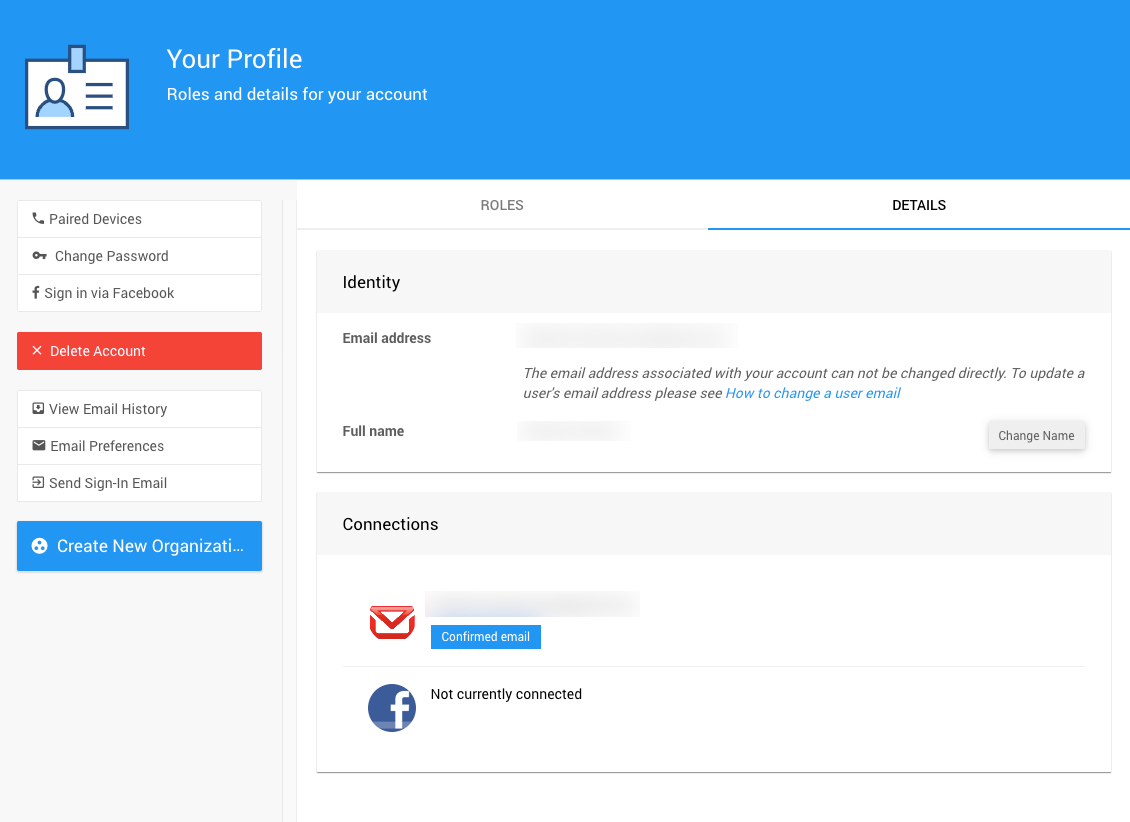 An example taken from a demonstration event.
Your Profile Sidebar
The Your Profile sidebar offers several options, including the ability to review any Paired Devices, Change Password, and Sign in via Facebook. See  ∞ My Profile for more details.
Paired Devices
Clicking the Paired Devices button will show the Paired Devices dashboard page.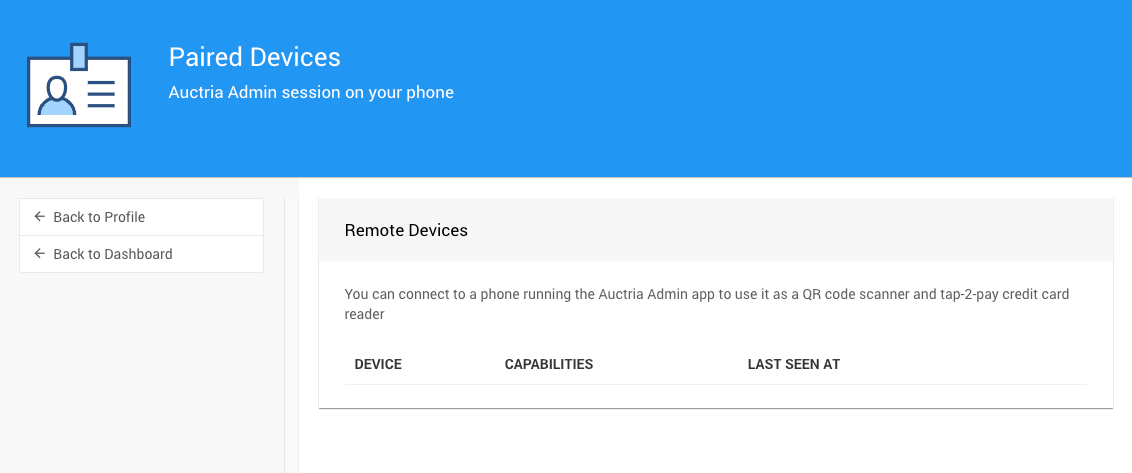 No devices paired with organization.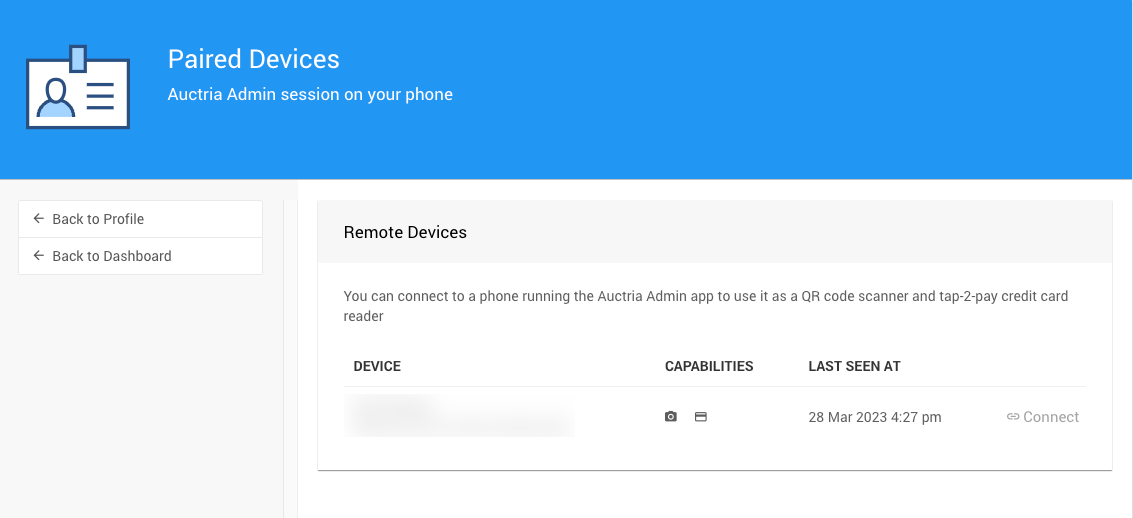 A device paired with organization.
If a Paired Device exists, it can be connected from this dashboard by clicking the ∞ Connect link. It can be disconnected, if already connected, by clicking on its "Disconnect" link.
Change Password
The Change Password action, when clicked, will pop up the Change Password window. The current password is required for this action.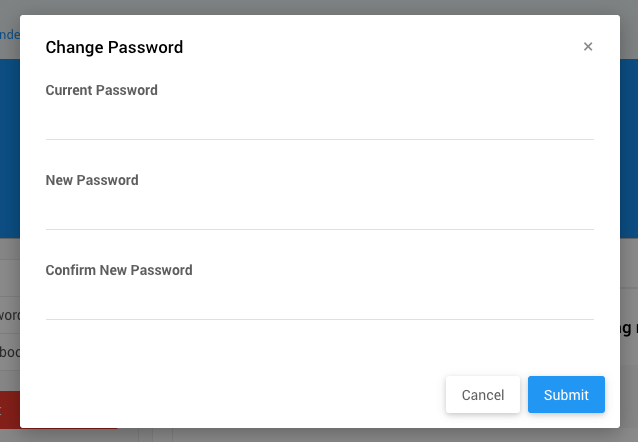 Sign in via Facebook
The Sign in via Facebook link opens a Facebookopen in new window "login" page where you can connect your Auctria and Facebook accounts.
Email
Under the Email sidebar menu, you have View Email History (emails generated within Auctria), Email Preferences, and Send Sign-in Email (containing a sign-in link) options.
View Email History
You can find various email communications sent from Auctria to your email account which, if you are the Organizer/Contact email address, will include any "Auctria Receipts" for the Organization such as the License plan receipt and any Text Messaging set up receipts.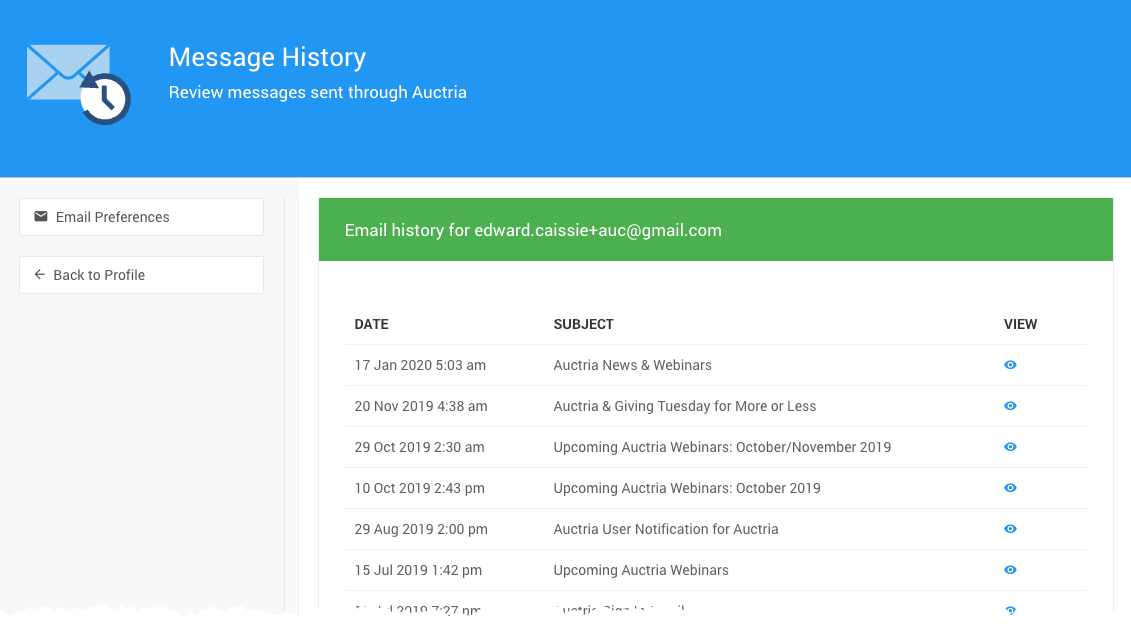 An example taken from a demonstration event.
Email Preferences
This opens the Email Settings page. We want you to be able to control the emails you receive from us, which are designed to keep you informed about what is going on.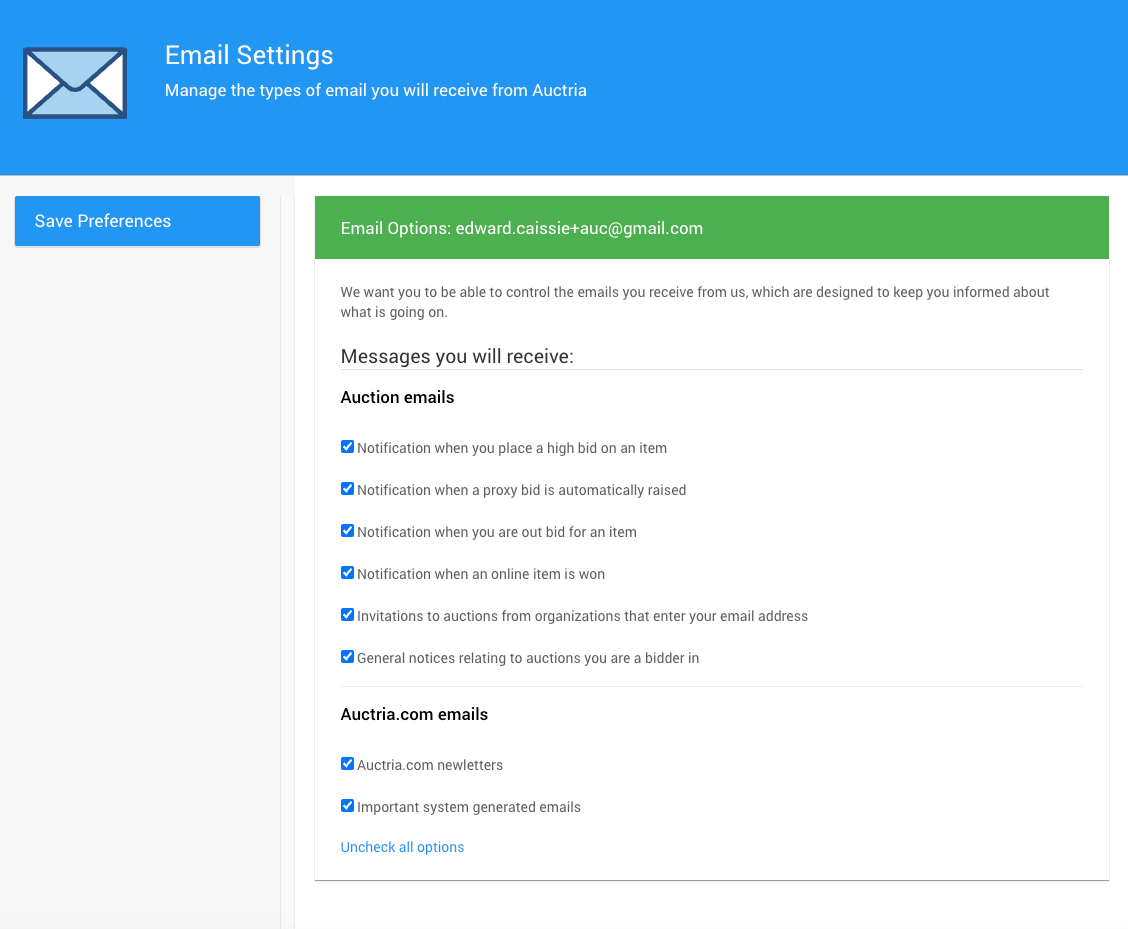 Send Sign-In Email
Clicking the Send Sign-In Email option will trigger an email to the account address and produce a success banner across the top of the screen.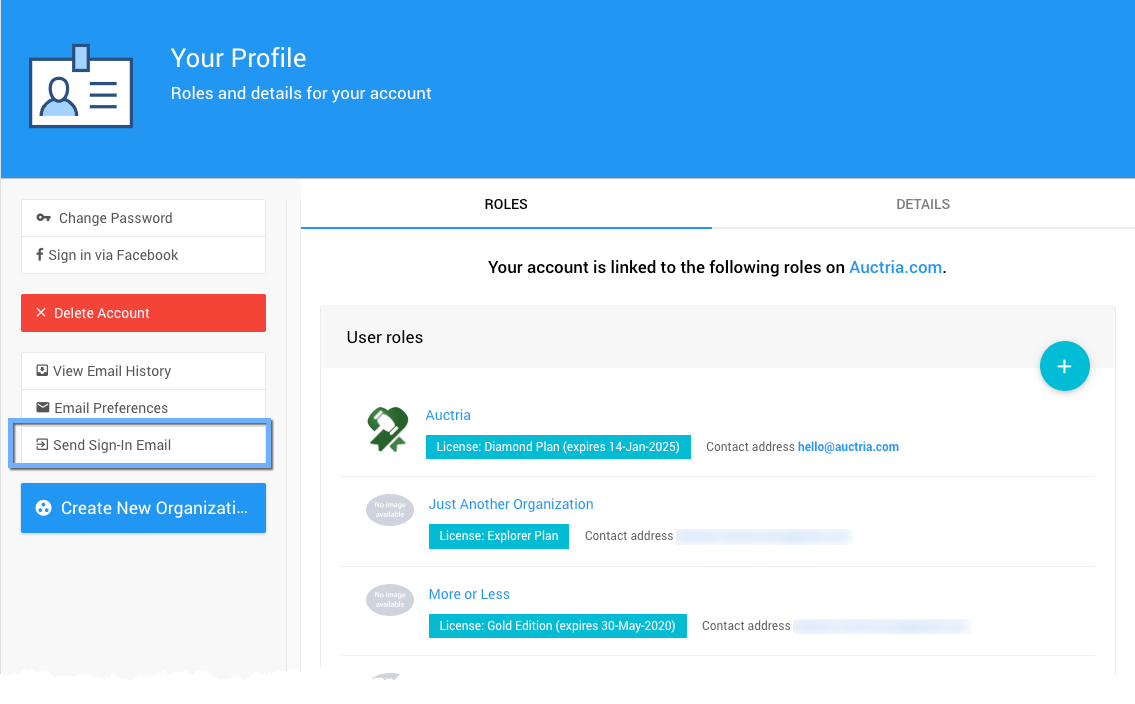 My Account
With the new Website Editor, you can also provide a "My Account" menu entry where a bidder can update their own details as they relate to the current event logged into and registered for.
 ∞ My Account (Bidder Experience)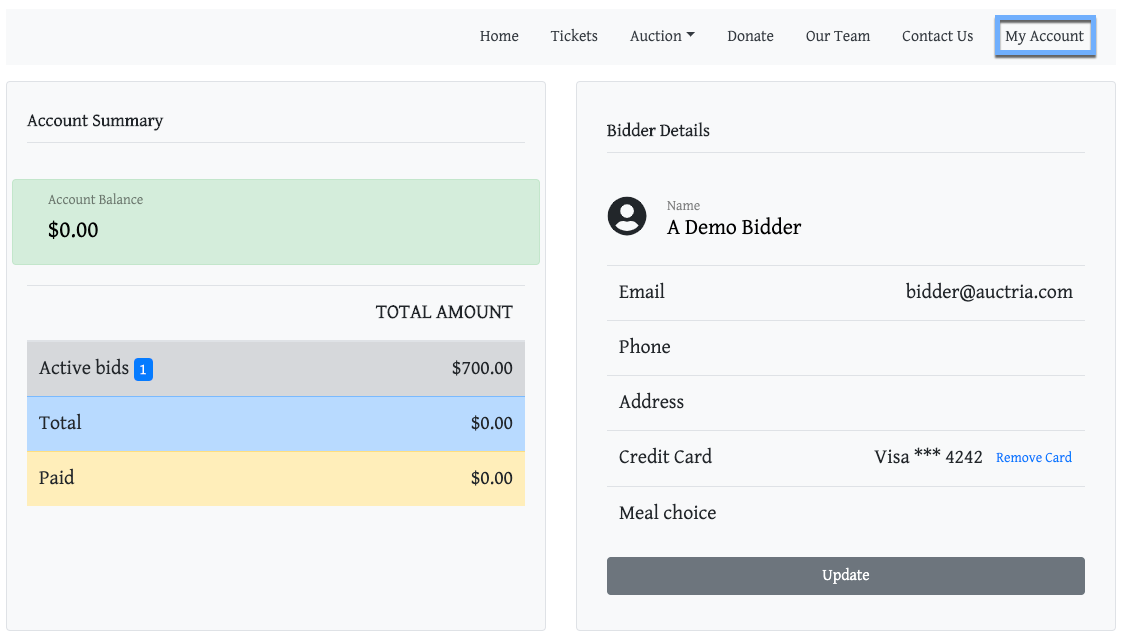 You can also use the Create New Organization button to create another Organization (under an Explorer subscription plan). See Create New Organization for more information.
---
Last reviewed:
March 2023