Selling Sponsorships
Sponsorships in Auctria are best handled as an item bidders can purchase. In many cases, Sponsorships are also configured as Tickets items since they will generally include a number of admissions to the event, especially with "in-person" events or events where the number of participants are limited.
Creating A Sponsorship Item
The key difference when Creating A Sponsorship Item is whether or not the item will include "admission" tickets or just be an item your guests can purchase outright. In some cases, these types of purchased sponsorships might carry a benefit of more prominent placement on the auction website, or a formal shout-out at the in-person event.
To start, from the main Auction Dashboard, click through the Sponsorships entry to open the Sponsorships Dashboard and then click on the Add Sponsorship Item button. This will open the Add Sponsorship item details page.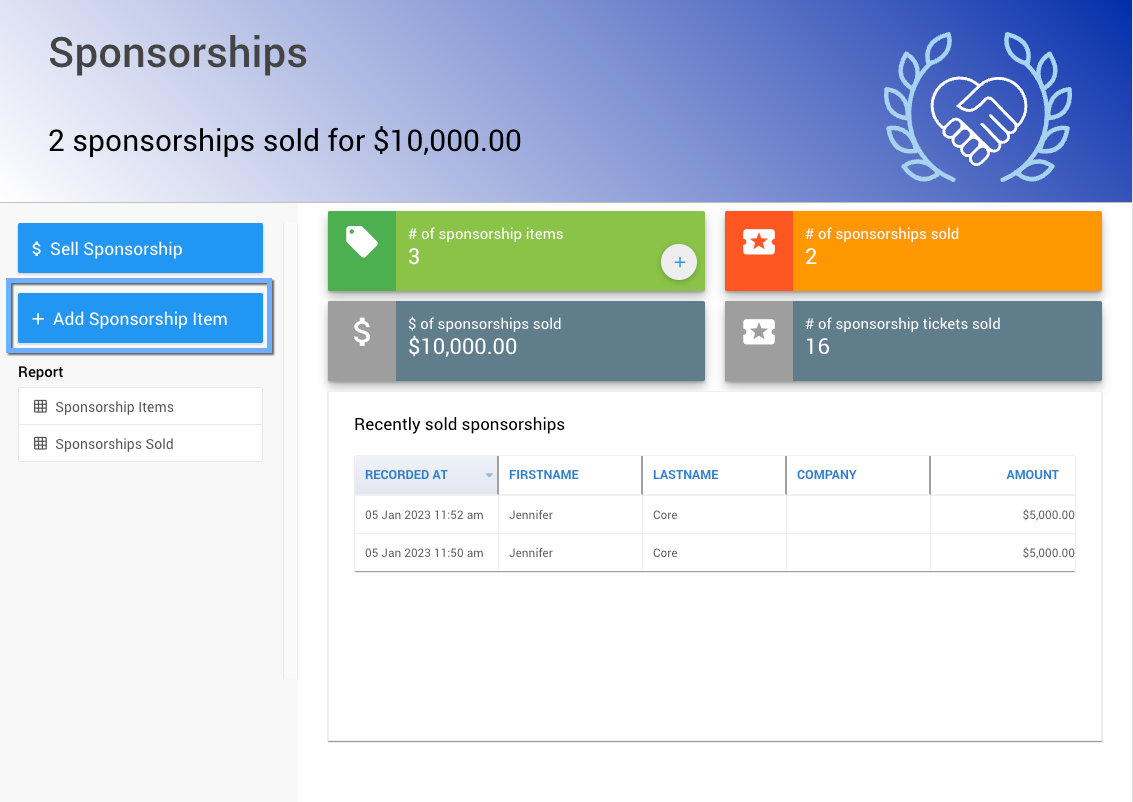 An example taken from a demonstration event.
An cut-down display of the dashboard focused on the Tickets panel.
IMPORTANT
When creating a Sponsorship item, ensure the Is sponsorship property under For Sale Options is enabled. This allows the other Sponsorship functions and feature sets to work correctly such as the Sponsors Catalog element and Sponsors Row element.
Sponsorships As Tickets
For those cases where you want to include admission tickets, simply ensure you enter the number of tickets included with the sponsorship in the Tickets >> Tickets included field. The system will take care of ensuring the appropriate Tickets item is created.
An example Sponsorship Tickets item's relevant details.
See  ∞ Tickets for more details about this special type of item.
Sponsorships To Be Purchased
In the case of those sponsorships that do not include Tickets, simply leave the Tickets >> Tickets included field blank. This will create a simple For Sale type item that has its Is sponsorship option enabled.
An example Sponsorship Purchase item's relevant details (note, no admissions listed).
Limiting Sponsorships
In some cases you may want to limit the number of available Sponsorships for your event, this is accomplished by setting the (Availability) Quantity for the Sponsorship either while creating the item or afterward by modifying the For Sale Items Quantity property.
Although Limiting Sponsorships may create an urgency for bidders, be careful when setting the Quantity value as having too few of a sponsorship may end up "leaving money on the table" if there are not enough to meet your bidders' demands.
Sponsorships: Bidder Versus Donor
An infographic showing the "Bidder" approach provides more "Donor" options.