Selling Items
You can use Auctria to "sell" items online from your Auction Website.
For Sale Items Versus Buy It Now Only Items
When Selling Items in Auctria there are essentially two ways to set up items. You can use the For Sale Items approach or you can use Buy It Now Only Items approach.
For example, For Sale Items are used for Tickets in Auctria because they often require immediate payment, or assurances of payment, by the purchaser while Buy It Now Only Items will go "on account" for the bidder (aka purchaser) to be paid for at a later time -- generally during Checkout or via an online payment link from a Won Item Notification.
| Item Concept | For Sale Item | Buy It Now Item |
| --- | --- | --- |
| Bidder Registration/Checkout | Not required first | Required first |
| Tickets | Admission to the in-person event | Admission to another event, venue, etc. (not the in-person event) |
| Bidder Statements | Displays under Purchases | Displays under Won Items |
| Sponsorships | Sold prior to event | Use Donation Items during events for sponsorships |
| Raffle Tickets | To sell with Tickets | To sell during event / via mobile app |
| Online Payments | Immediate payment required | Item "winning bid" value added to bidder balance, immediate payment may not be required |
Both For Sale Items and Buy It Now Items have the ability to limit quantity by setting a value for the Availability Quantity field (leaving blank or using 0 would be considered as unlimited).
Export Individual Sales
As a special case, For Sale Items have an additional Activity related option under Exporting & Printing (in the sidebar) that allows you to Export Individual Sales for the specific item as an XLS formatted file.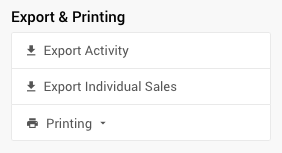 Clicking the button will immediately start the process and download the file in your browser.