What Are The Total Credit Card Fees We Paid?
January 2023: the current dashboard release has new graphics and some interface changes. Many screenshots still reflect the older release and will be updated shortly.
To know how much your organization paid in fees you can look at the Report > Financial | Payments > Credit Card Summary. This can also be found from the Credit Cards dashboard page under the Actions sidebar menu as the Charge Summary entry.

An example taken from a demonstration event.
INFORMATION
The default report will use the "Status" of All Charges, the better status to use in this case is Confirmed which represents the actual charges made.
To see what your guests have paid, if the option was available to them, you can review the cc.fees item. This item is used exclusively to track the fees that are paid by your guests.
 ∞ Credit Card Settings - Surcharge Settings (Current Auction)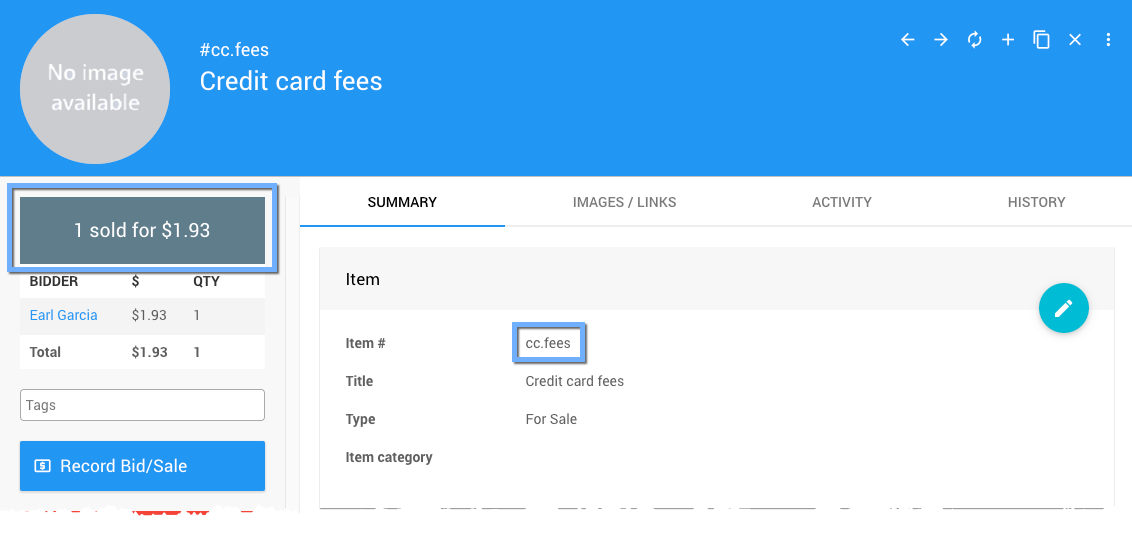 An example of the cc.fees item from a demonstration event.
Comparing these two totals, subtracting the cc.fees total (shown under the image placeholder in the sidebar -- see example image above) from the credit card total processing fees (Auctria Fee + Processor Fee) will leave you with the amount your organization ultimately paid in credit card processing fees (including the Auctria integration fees).
INFORMATION
It is important to note the organization will always be paying the credit card processing fees and the Auctria integration fees on credit card transactions only.
When a bidder pays the fees, they will be paying an extra amount. This extra payment amount is based on the the credit card processing fees plus the Auctria integration fees and applied to their balance during checkout.
This extra payment amount will cover the fees being charged leaving the entire donation, purchase, and winning bid amounts to the organization.
 ∞ Processing Fees - Example: Surcharge Fees